"Primer" releases today on Kindle!
I'm bustin' out the Cook's champagne (don't judge—it's going in the turkey my husband insists on preparing for Thanksgiving) to celebrate the release of my commissioned erotic short story "Primer." Speaking of giving thanks, I'd be remiss if I didn't give a shout-out to the folks who have added my stories on Goodreads, reviewed my works, or engaged in positive interactions with me since I restarted my writing career. I am thankful for your time and attention. Writing is one of my dearest loves, and sharing it with others brings me much satisfaction. That being said, I am also thankful for the health and safety of my family. As I prepare to introduce my baby-in-waiting to the world outside the womb, I am reminded that, despite the future's daunting uncertainty, I can find reasons to smile. Reasons to savor moments of happiness. Reasons to keep growing, learning, and living.
And now, I present to you…the book trailer for "Primer." I'm rather pleased with my efforts. The biggest challenge I encountered was finding the appropriate background music within the limits of Windows Video Editor. Lo and behold, when I uploaded my trailer to YouTube, I realized I could have used one of the free music tracks the site offers. I'm curious—if you make book trailers, where do you find your soundtracks? I'm pretty anal about ensuring the timing of the music matches the flow of the images. It seems that effect may prove difficult to achieve if I assemble the trailer first and then match the royalty-free YouTube music with it upon uploading…or maybe there exists a key step that will simplify this. Anyway, I'd appreciate any advice on trailer-making.
Scroll down past the description of "Primer" to view the trailer, or watch it on YouTube.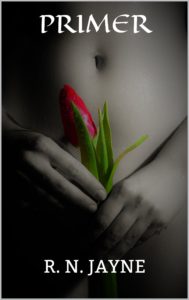 Release Date: 11/26/2020
Genres: Bisexual Erotica/Romance/Contemporary/Humor/Short Stories
Book description: Carmen is a sassy late-bloomer beleaguered by an increasingly monotonous existence and unrelieved sexual frustration. During an impulsive night on the town, she encounters Stefan, a darkly handsome, lyrics-quoting tech nerd. Exploring a potential hookup with Stefan might provide the inspiration Carmen requires to stop obsessing over a year-old one-night stand with temptress Yumi…especially if this seductive new suitor can satisfy her filthiest roleplay fantasies.
Warning: The following short story contains explicit sexual content, including student/teacher fetish, spanking, and f/f. Reader discretion is highly advised.
In related news, I also made a book trailer for another new release: Luna, the second installment in my LGBTQ vampire series MASTER. You can read an excerpt on my blog. Luna releases on digital platforms worldwide and in paperback on Amazon 11/27/2020.
If you celebrate Thanksgiving, please have a safe and happy one. Cheers!