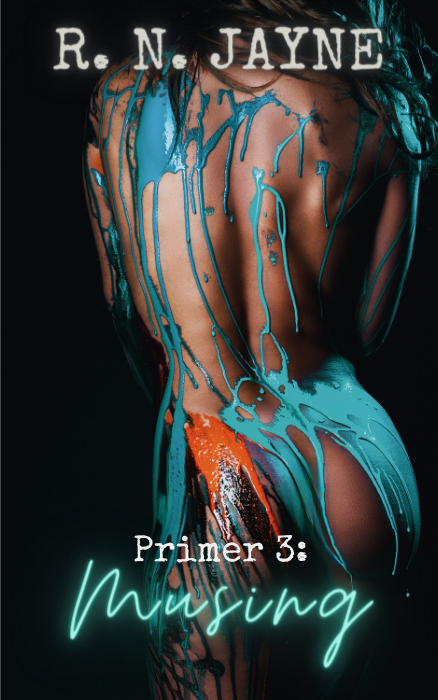 "This night sucks like a pierced straw—until my narrowed eyes land on one of the prettiest ladies I've seen in a long time. She's a cool drink of iced coffee in the height of global warming; she has sorrel skin, her features elegantly elongated like evening shadows. Before I can take in the rest of her, I glimpse her autumn-brown eyes and my world slides off center. There's an expression of knowing amusement on her face—the unlit cigarette poised between her fingers, the rueful purse of her rose-kissed lips—but her eyes are dark stars, distant and celestial."
Voici my latest offering to the altar of Calliope, the erotic and humorous Primer 3: Musing. It's the third entry in a series I didn't intend to continue beyond the first short story penned for an acquaintance in exchange for his creative services. Wouldn't you know, my characters grew on me. Now I'm wavering between accepting their imagined pleas for a fourth sibling, or tying the proverbial tubes…
A taste of my latest Primer standalone plot bunny: when Carmen, an aspiring writer in her mid-twenties, encounters trans beauty Wallis (I hate giving my characters last names LOL), she's muse-struck at first sight. The leggy, laconic lady inspires both awe and lust; however, things get complicated when Carmen merges her Wallis crush with her long-standing fixation on Yumi, a two-night stand (and the best sapphic sex she's ever had). The two women become the centerpiece of Carmen's novel-in-progress and she loses herself in the process. Meanwhile, her FWB Stefan is wondering why his non-girlfriend is pushing him away when all he wants to do is pull her closer.
The life-imitating-art scenario is one I've wanted to unpack for some time, mostly because I relate to Carmen's struggle to separate real life from fictional reality. Musing is an ode to my past in the sense that I used to be deeply entrenched in the fanfic community: at the beginning of my book-writing journey, I relied on RPS (real person slash) as a springboard for my creativity. I researched select celebrities with the same attention to detail I would have given historical novel characters. It became my habit to memorize my chosen subjects' public personas; I analyzed their quirks and idiosyncrasies, revealed in behind-the-scenes clips or off-color moments in interviews; I envisioned them sustaining a perfectly decadent forbidden love/lust with their costars. Though I had no desire to meet or interact with them (with the exception of one) I nonetheless relished me role as the anonymous third party, the willing witness to what I perceived to be their desperate debauchery.
My voyeuristic tendencies first became apparent in my early twenties, when I was under great psychological and emotional duress. I was a chaotic, hungry, lonely soul who wanted the comfort of a connection but didn't know how to seek it. Everywhere I looked was the wrong place, everyone I met the wrong person with the wrong pair of hands and lips, the wrong eyes returning my gaze. Sometimes those wrong people with their wrong bodies inflicted permanent damage on me. Gradually, I turned myself into an object to escape my deeper self, the muted girl bound and drowned at the bottom of my soul. After I became the object, the watcher emerged.
The watcher inside me–the artist, the ruler–came out to play when the computer was on. Upon popping my RPS cherry, I was cautiously ecstatic; after the second story in the same vein penetrated my brain, a novel power pooled languorously on my tongue, thick and syrupy-sweet, like an after-dinner drink. I was ripe with potential again–I had rediscovered a purpose that brought me something other than misery. I was awakening.
The watcher was different from the object: confident and witty where the object was dull and self-conscious; vivacious and chatty, where the object was only gregarious in social settings involving copious amounts of weed and alcohol. The watcher thrilled her fans when she posted chapter updates, while the object bribed a girl from work with twenty bucks to hang out with her just to prolong the dread of returning home to a place that felt anything but safe. The watcher's one weakness was her sensitivity to criticism; the object had been criticized at regular intervals for as long as she could remember, so she no longer acknowledged the hurt that accompanied the ridicule. Jane, I called the watcher. Jane Bled. And bleed she did–all over the page. Time and again she would siphon the object's lifeforce for her own. She wasn't sorry about it, either: she was triumphant.
I began to dissociate more frequently, becoming Jane Bled so often she wove her way into my interactions with people outside the Web. Jane would flirt with strangers at bars and kiss them in the bathroom, only to leave them wanting when they tried to take her home.
That'll teach you, she thought, to show your cards to a player.
Sometimes Jane would do things the object would never consider doing in her wildest dreams. She'd go home with strangers and wake up on their floor with no memory of the night before.
You're wrong–I'm not a victim, she'd tell the object. I deserved to be raped when I was a college freshman because I'm a slut who thinks about sex all the time. I'll let people use me for their own gain, and use them in return, just to prove how over it I am. See? No pain. It's fun.
Jane would use every experience to fuel her creativity. One day, however, the object rebelled–she fell in love and changed her focus. Jane retreated to the shadows and came out to play less frequently. The object heard her given name spoken aloud in what sounded like adoring tones from her new partner. It took her more effort to conjure the mindscapes she had previously imagined while under Jane's influence. Now she was full of hope for her future, despite her misgivings with the sped-up trajectory of her new romance. The object became a girlfriend, and she lost herself inside her abruptly adjusted role as Maker of Happiness for Man.
Jane wasn't done with her, though–she managed to commandeer the object into a publishing deal they both thought was a dream come true. Sure, the press was small and afflicted with a slight stankishness, but it gave her a contract, a paying job in her new dream career. Now that Jane had her foot in the door, she would only need to keep creating stories to achieve upper-rung status on the ladder of success.
Predictably, Jane's Kryptonite was her aversion to criticism. After the first couple of not-glowing reviews, she began to doubt her once-powerful voice. She grew quieter. Inspiration, once such a fountain, became a trickle.
When's the next book coming out? Why have you only released one series installment so far? How long are you going to make us wait for the second book? One enquirer was so invested in the story, they arranged an in-person meeting with Jane under the guise of a business proposition in hopes of gaining details about the second book in her queer vampire series MASTER.
It's coming, she promised. I'm writing it as we speak.
A half-truth–she had managed an outline, and a quarter or so of the next book; but in RL, the object was seriously distracted by maintaining a romantic relationship with someone so fundamentally different from herself. The object, once passive, began to dominate the waning Jane…and once she met a kindred spirit who kindled her urge to sing and write music, Jane transformed into a quiet background fixture, like a statue who could speak when the urge struck, but otherwise remained a cameo character in the object's full life.
As the object pursued music, her first love, Jane did not begrudge her the opportunity to follow her natural instinct to perform. Instead, Jane helped her by writing the lyrics to her songs. Jane and the object worked together to tell tales of casual sex, predatory behavior, and lost-and-found love. As a result, Jane, the object, and the soul-trapped girl inside me briefly merged into one being: me (the object), myself (Jane), and I (the girl).
Then tragedy struck. My dear friend and songwriting partner died without warning while I was six months pregnant with my first child. I reverted to shell again, a full vessel housing the squirming body of my son-to-be, devoid of a sense of self without my music, my words, my art. Jane didn't come out except on very rare occasions. The object became the mom, the wife. The girl inside me went back to her watery grave and slowly starved. I hollowed to the point of death and prepared to leave everyone behind. When my son was thirteen months old, I decided I was ready to go; with a bottle of Valium, I attempted escape.
Life had other plans. I came back to myself slowly, in waves lapping the shore of my fickle awareness. Do you know what you did? Jane hissed, incensed by my cruelty. You almost killed us, you idiot. I can't trust you to drive. Move over.
She took the wheel and I started writing again. At first it was required journaling for psych-ward patients. Then it was poetry and bits and pieces of original work. Eventually she made her way back to fanfic, but steered clear of RPS, instead settling on TV-series fandoms. She started to find her groove again. Just as quickly as it had begun, however, her return to form was snuffed out by invisible culprits.
After my phone was hacked in 2015, I had a psychotic break. My K-pop bias and I were in love. His bandmate was jealous because he noticed we were communicating. Aliens were messaging me with ominous threats of world domination. Internet troll gangs were stalking me on social media. Dogwalkers were canvassing my house and reporting their findings to the FBI. Cops were following me because I'd been doxxed. My husband was a spy and worked for the yakuza. There were cameras in my house; I was on reality TV, entertainment for the rich and famous. Anyone and everyone was out to get me. I was heartbroken; I was doomed. I fell down hard, and still struggle to stand. 
But I'm still here. For the past eight years, I've clawed my way through the muck of my mind to breathe new purpose into my life. Though I lost the trust of my fanbase and some of my friends, I've gained greater self-awareness. Every day I live with intrusive thoughts, senseless feelings, and flurries of delusion. Though I'm functional to the untrained eye, behind closed doors my life is messy, unfiltered and, luckily, nor the worst. Not as bad as it could be. Better than I thought it would be back in time when I cried myself to sleep every night, praying for someone to help me. This is still a life, a continuous thread, and it's mine.
Calling the shots has never been easy, but I'd do well to remember Jayne (added the "y" when R. N. Jayne took over after Jane Bled died) is here to help. After all, she wants me to succeed. Now that I'm no longer an object, I must raise up the waterlogged Lazarus from the bottom of my soul. Even now, I feel her skeletal fingers pressing into my palm, and hear her faint ghostly whisper.
I'm still here, she reassures me. I'll never leave you. Now why don't you open up this jail cell so we can be together?
Every day, I grow closer to handing her the key.
***
Primer 3: Musing releases on digital platforms worldwide September 22, 2023. Preorder is now available on Amazon Kindle (more platforms to be added soon).
Excerpt
Warning: Primer 3: Musing is intended for adults only. It contains strong language, substance abuse, and explicit sexual situations. Reader discretion is advised.
***
When we get to Gaytors, Rob's been waiting for five minutes, but he acts like it's been fifty.
"Honey, where were you?" He puts his arms around Yves like an overprotective father. "I was following you on Find My Location. Why were you parked at the corner of Hoover and Main for so long?"
"Carmen lost one of her fake lashes so we had to put on the emergency lights."
"I see." Rob gives me a look of distaste. "Maybe you should switch eyelash glue brands so you don't endanger my boyfriend with your shenanigans."
Sniffing, he surveys the security-guarded parking lot. It's packed to the brim with hooting and hollering clubgoers, many of whom are openly drinking liquor from paper sacks and smoking pot. "This is the wrong side of town."
"Ha!" I chortle. "Did you forget we're in Detroit? There's not a 'right' side of town."
Rob bristles. "No wonder you're so at home here."
Luckily a bedazzled Latinx drag queen takes our attention when she sashays through the narrow space between me, Rob, and Yves.
"Pardon me, gents. And lady." She throws me a wink. "Nice rack."
"Why, thank you!" I savor Rob's visible discomfort. "Do the big bad boobies scare you?"
"He has an aversion to public breastfeeding," Yves says.
I point at my chest. "Do you see a baby?"
"Ask him again nine months from now" is Rob's super-cringe reply.
"FYI, Rob, it's infantile to be scared of breasts." Slinging my hair around so it whips near his face, I add, "What's your damage?"
"I just don't like them."
Or you, he doesn't need to voice aloud.
"Fair enough."
I stomp to the entrance without waiting for Man-Child and his pacifier to join me.
The queen working the entrance is built like a brick shithouse. She's fabulously chonky and has ebony skin that's likely as smooth as it was ten years ago. Her acrylic nails rival Freddy Krueger's.
After stamping my hand, she purses her lips and says, "The show's upstairs. Dance floor's downstairs. Drinks are cold. Clock's ticking, so you best get gone." She then flicks her cat-eyed gaze to Rob and Yves. "Next."
Once inside, I remove my vegan leather jade jacket and fold it over my arm. The place hasn't changed much. The bathroom sports graffiti touting the sexual skills of Joe Blow; the floor's borderline sticky with early-night drink spills; and the music's so loud I'm worried it'll rupture my uterus. But I haven't been out dancing since New York, so I'm determined to enjoy this.
On second thought, I should have come alone. A single backward glance is enough to confirm that Rob is already ripping into his complaints: he's gesturing at the loosely populated dance floor with his index finger and thumb sticking straight out (always a sign he's in a tiff) as Yves, ever consoling, strokes his upper arm and nods like a therapist listening to her patient recall childhood trauma.
"Yargh! I need a drink," I groan, accidentally connecting eyes with the nearest shot boy.
Not that kind of drink. Ugh, get that frou-frou Jell-O shit away from me! I turn my head, but it's too late—he jounces into the middle of my path, all perky assed and sparkly eyed, asking me if I want a Life Saver, whatever the fuck kinda candy-ass shot that is. I decline as politely as possible, trying to keep the grimace off my face, and head to the bar.
It sucks being on the shorter side, especially when you're trying to signal the bartender. At one point I jump up and down like an agitated Goldendoodle, but that doesn't help. I consider flashing my tits, then think better of it when I remember the crowd is seventy to eighty percent gay men. OFC not all of them would be as tit phobic as Rob—some of them may even enjoy the view—however, this isn't Baton fucking Rouge, and I'm not about to earn any beads for my selfless act of flashing.
I hype up the aggro factor in my bid for the bartender's attention.
"Yo!" I shout from my diaphragm, uncomfortably aware of my gaping mouth and its vulnerability to other people's incidental spit.
The pulse-altering bass drowns out my efforts. Sulking, I stalk over to Yves and Rob, who are canoodling in a half-lit corner, apparently unconcerned about their drink-less state.
"Rob." I tap his shoulder. "Can you please use your tallness to aid, abet, and get my whistle wet?"
"Are you requesting sexual favors from my man?" Yves murmurs, his lips grazing Rob's neck. "If that's the case, you'll have to wait your turn."
This night sucks like a pierced straw—until my narrowed eyes land on one of the prettiest ladies I've seen in a long time. She's a long, cool drink of iced coffee in the height of global warming; she has sorrel skin, her features elegantly elongated like evening shadows. Before I can take in the rest of her, I glimpse her autumn-brown eyes and my world slides off center. There's an expression of knowing amusement on her face—the unlit cigarette poised between her fingers, the rueful purse of her rose-kissed lips—but her eyes are dark stars, distant and celestial. When the strobe light flashes near her, I spy a glimmering frame of silver eyeliner around her luminous orbs.
"Smokes," I breathe. "Holy."
God, I wish I could go back in time to get my journal. (I always bring it when I'm solo.) The beauty signals to the bartender. Even though she's at the back of a line three dudes deep, she's pushing six feet in her strappy shoes—plus she looks like she just stepped off a plane from the Canaries, so OFC the bartender notices her straightaway. I wish I could hear what he says, because my limited lip-reading skills tell me he knows her; maybe she's a regular. What is your name, divine one?
"Carmen!" Yves practically screeches in my ear. "Rob's going to the bar now." He slides into a chair. "I'm going to rest my weary bunions."
"Pillow princess." I roll my eyes. "I hope Rob gives your ass a beating tonight."
Yves laughs and waves me away. Tossing me a disdainful sneer, Rob walks over to the bar. I trail behind him like a piece of toilet paper stuck to his shoe.
"Drink," he intones, issuing a command instead of asking me what's my preferred poison.
I scowl. "Whiskey sour."
We stand there without attempting the pretense of conversation, which is perfect for my roving eyes. The tall beauty's still in the same spot, albeit sipping her drink, a clear-ish fluid that could either be vodka soda or a G&T. When her tongue brushes the straw, the visual zaps me right in the clit. Pretty sure I let a little moan slip; fortunately no one can hear me over this din.
"Wallis!" the bartender booms. The bass in his voice slices through the crowd's drunken roar. He mimes taking a shot. "Cuervo?"
Whipping my head back in the beauty's direction, I gauge her—Wallis'—reaction.
"Why not?" I murmur too quietly for Rob to hear, imagining Wallis asking it instead.
"Why not?" she says aloud, and I squeal like a fangirl spotting her favorite celeb at Comic Con.
Rob rubs his ears, affecting injury. "Is it your goal to make my eardrums bleed?"
I bite my tongue. Not even Yves' grouchy other half can spoil my zesty spirits. One of the yummiest babes I've seen in a long time spoke my line aloud like she sprang from my head à la Athena spawned from Zeus…and now she's headed my way.
"Here's your bev." Rob practically dumps it in my lap. "Next time you're on your own." He swirls away from the bar so fast I imagine him flapping a magician's cape.
"Presto!" I raise my finger and point to the ceiling. "Change-o!"
"Where's your hat, bunny?"
The speaker is none other than—gulp—Wallis. She halts in front of me, looks me over, and smacks her lips. "You know how to make the most of your figure."
"As do you."
She tips me a smirk and flicks those heart-stopping eyes in Rob's direction. "Dad's gonna be mad if you stay out too late."
"Good thing he's not my dad."
Shrugging past the shorter men surrounding her, she calls over one elegantly cocked shoulder, "Don't let the wicked stepmother dull your shine."
Not sure who she's referring to, but does it matter? She complimented me—dare I say flirted with me.
"Wait," I whisper to her departing back. "You can't just end it like that."
But she does…and I don't see her for the rest of the night, despite my best efforts to locate her. Not on the dance floor, not at the bar, not outside with the smokers or downstairs with the drag queens. I do a bathroom patrol every fifteen minutes, completely self-conscious about my stalkerish behavior, but seemingly unable or unwilling to move on from our brief encounter.
I flourish when curious, wilt when expectant.
"Carmen!" Yves grabs my arm, literally yanking me out of my melancholic self-reflective splendor. "It's past midnight."
"Are we skedaddling?" I ask, half relieved, half disappointed.
"We're taking a shortcut." He lowers his voice even though the bass is bumping so loud it's probably changing our blood chemistry. "Rob's ready to lay me down—"
"Jesus."
"—in my linen and pearls. I'm his favorite girl."
"A nod to Lana?" I pat his back. "Stefan would be proud."
"Our mutual appreciation of good bops is the one thing your FWB and I have in common."
"Can't argue that point."
***
After downing a tepid tumbler of water (thirst overrides temperature), I race to my IG page to see if Yumi's left me a new message (or maybe liked one of my pics—a girl can dream). My anticipation falls flat on its face when I see no unread DM, no red heart waiting. I wonder what she's doing right now. She might be sipping a Manhattan in Brooklyn and casting looks of cool disdain around the room. Who am I kidding? Yumi wouldn't deign to reveal her judgment of others in a public setting. I wonder what she'd make of Wallis.
The thought is so casual I almost miss the seed it plants…but forty minutes later, while the sun's still in hiding, I bolt out of bed and race to my laptop, jolted out of sound sleep to jot down my trident-bolt inspo. I feel plates shifting—it's Teutonic; my writer's block lifts.
If I weren't so frantic to jot down my raw thoughts, I'd probably burst into tears of relief or pray to the stars to light my forward path, but instead I struggle with articulating the plot bunny. It's a toss-up between college meet-cute and dark academia slow-burn romance. Ultimately I decide the hemming and hawing won't help me a whit: I should just shut up the conflicting Carmens in my head and write already. It doesn't have to be pretty; it doesn't have to be clean, but damn it, it's gotta be words on the page, which is more than I've managed to achieve for several months. Picking my WIP to bits with minor editing that does nothing to enhance the plot is a slow-form self-sabotage—no more of that malarkey. Time to dive/bungee/ragdoll in.
It's been a couple years since I yeeted for a muse. This new one came on as strong as the others, but I feel shyer about putting her to paper. Wallis. Those heavy brows, sultry eyes…the way she held her cigarette, how she styled her hair. I honestly haven't been this smitten since meeting Stefan (to be fair, he was never my muse—that's Yumi's job, though she has no idea of her role in my writerly fantasies).
Composition of the outline commences more slowly than I'd like. My fingers stumble over the keys as if they're hungover. The crimson wave's threatening to knock me off my surfboard, and there might be sharks circling beneath me, but I'm gonna ride it, damn it. Composing a brief character profile, I describe the way Wallis looked when I first saw her; then I throw her into a different setting for the hell of it. At a private art school, she's a teacher—no, that's too overdone; she's a nude model for Yumi's drawing class. Also overdone, but I'm gonna roll with it.
Yumi draws Wallis. There's a spark. They exchange heated eye contact, but no words. Yumi takes her time drawing Wallis' lithe body, lingering on her naturally curving hips, her chiseled thighs and concave belly. When her focus rests on Wallis' intimate areas, she hesitates, uncertain. It's just a body, she reminds herself. A beautiful one. Her heart thumps erratically as she sketches Wallis' prominent—
I stop myself before describing Wallis' intimate parts. It feels somehow wrong. Am I a mega perv? Now this wouldn't have bothered me in the past, thinking of myself as a sexual deviant, because I knowingly and proudly am, but something about "going there" with Wallis stops me in my tracks…maybe because she's trans, and I'm not sure what the protocol is for describing non-cis-gendered anatomy.
God, I need some sleep. I close the laptop; if I'm still curious in the morning, I'll do a search for trans topics and see what comes up, maybe lurk on a few websites to determine the code of conduct/proper etiquette of this situation or abandon the project entirely.
"Calliope, my number one of the Nine Muses. Will you grace me with your presence again?" I murmur, then crash-land into my dreamscape.