TGIF!
If you celebrated Thanksgiving, I hope you had a wonderful holiday. Today I come bearing news of another new release right on the heels of "Primer." Luna, the second installment in LGBTQ vampire series MASTER, is officially back online. When I first published Luna back in 2014, it was embarrassingly riddled with typos, format issues, and the occasional grammatical error. Since I enlisted the services of Reedsy freelance editor Beth Dorward this time around, I'm confident the second edition of Luna is a superior reading experience. In addition to adding about 10K words of previously unpublished backstory regarding how rock star vampire Raiden honed his killing skills under the coercive influence of his bad-to-the-bone maker Justus, I've polished up the present-day interaction between Raiden and his hotheaded protégé Gabriel.
Bonus! I made a book trailer. Be forewarned: there are spoilers in the trailer relevant to both Luna and Crimson (MASTER, Book 1). If you're unfamiliar with the story, I suggest reading Crimson first. Check out the Crimson book trailer for a peek at the plot. Furthermore, I invite you to indulge in a free copy of Crimson on Smashwords (epub format). Since I'm feeling extra giving, I decided to put Luna on sale for 50% off as well. The last day of this two-book Black Friday/Cyber Monday sale is 11/30—please don't hesitate to download your free copy of Crimson and grab Luna while it's 50% off. In return, if you'd be so kind as to leave me a rating and/or review to help spread the word about my books, I'd greatly appreciate it.
In case you missed it, I released the "Primer" trailer yesterday. Near the end of this blog post, I've provided a brief synopsis of that story as well. And…surprise! "Primer" is free today on Amazon Kindle. I'm super-curious to know what readers think of this story, as it's my first attempt at penning erotica featuring explicit sex scenes with both f/f and hetero pairings. My test readers went wild for it, but one of them was definitely biased, since I wrote the story per his commission req's. 😉
Back to the main point of this post: Luna's release! Scroll past the book description to view the trailer, read an excerpt, and find the purchase links. Don't forget about that special Smashwords sale I'm hosting until 11/30. Happy perusing!
Luna (MASTER, Book 2)
Release Date: 11/27/2020.
Genres: LGBTQ/Vampire/Horror/Dark Fantasy/Paranormal/Contemporary
Description: A fledgling vampire needs a seasoned mentor to help him hone his homicidal instincts. The scent of blood is both an incentive for murder, and a potent aphrodisiac…opposites attract.
In the present, rock star Raiden and his reluctant sidekick, celebrity actor Gabriel Colin, encounter various challenges while attempting to conceal their criminal activities. Their shared proclivities provide fodder for the potential formation of a bond beyond necessity.
Stalking humans to satisfy Raiden's need for blood is a means to an end—but who provided the blueprint for his methodology? Snapshots of the singer's past reveal further details of his transformation; and once again bring him face to face with Justus, the master vampire who orchestrated his fiancée's demise.
Amid two timelines, the tension between maker and creation intensifies, exploding into degenerate violence—and surprising passion.
Purchase links:
Luna at your preferred online bookstore
---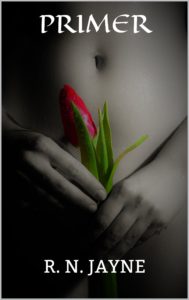 "Primer"
---
Release Date: 11/26/2020
Genres: Bisexual Erotica/Romance/Contemporary/Humor
Book description: Carmen is a sassy late-bloomer beleaguered by an increasingly monotonous existence and unrelieved sexual frustration. During an impulsive night on the town, she encounters Stefan, a darkly handsome, lyrics-quoting tech nerd. Exploring a potential hookup with Stefan might provide the inspiration Carmen requires to stop obsessing over a year-old one-night stand with temptress Yumi…especially if this seductive new suitor can satisfy her filthiest roleplay fantasies.
Warning: The following short story contains explicit sexual content, including student/teacher fetish, spanking, and f/f. Reader discretion is highly advised.
---
And finally…
With less than five weeks left until the birth of my third child, I'm doing my best to stay ahead of the curve and republish previous works (all the while writing new ones, such as the sequel to "Primer," MASTER Books 4 & 5, and finishing unpublished works The Second Best Thing and Bare Possibilities). Wish me luck!
Cheers,
R. N. Jayne